CMOS and BIOS may sound like technical jargon, but they're actually important parts of your computer that play different roles. You can see the Difference Between CMOS and BIOS. CMOS, which stands for Complementary Metal-Oxide-Semiconductor, is like a memory chip that remembers your computer's settings even when it's turned off. It holds information like the date, time, and how your computer starts up, making it great for keeping your settings intact.
On the other hand, BIOS, or Basic Input/Output System, is like your computer's startup manager. It checks if all the hardware, like the processor and memory, is working correctly before letting your operating system (like Windows or macOS) take control. Think of it as the referee ensuring everything is in order before the game (or your computer) begins.
While CMOS is like a reliable, long-lasting cookie, BIOS is more like a memory foam pillow that's soft but forgetful. You can change BIOS settings, but you need to save them if you want them to stick around. So, these two are like the backstage crew that keeps your computer running smoothly and gets it ready for action.
Main Difference Between CMOS and BIOS
The difference between CMOS and BIOS lies in the fact that some RAM chips, flash memory chips, and other types of memory chips use complementary metal-oxide semiconductor (CMOS, pronounced SEE-moss) technology because it offers high speeds and minimal power consumption. Basic Input/Output System is referred to as BIOS. Every microprocessor in a personal computer starts with a program called BIOS.
CMOS Vs. BIOS
What is CMOS?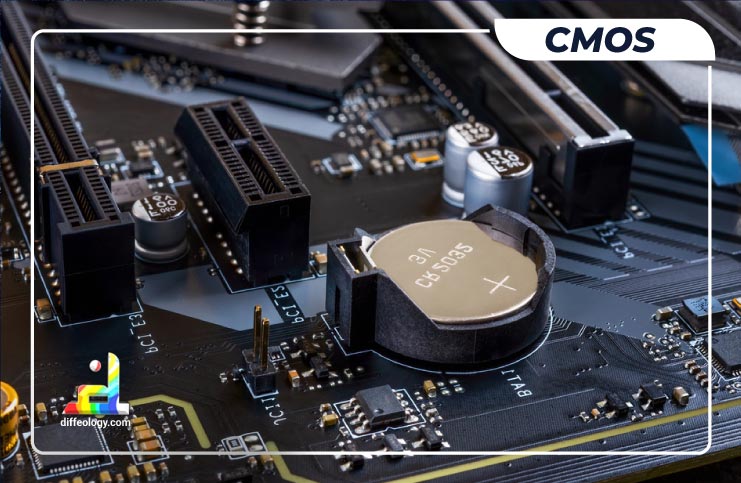 CMOS, or Complementary Metal-Oxide-Semiconductor, is a technology used in electronic devices like computers and smartphones. It's a way to make tiny switches, called transistors, that help these devices work.
In it, there are two types of transistors: one that uses positive electricity (called P-type) and one that uses negative electricity (called N-type). They work together in a complementary way, like a team. When one is on, the other is off, and vice versa. This allows it to use very little power, making it great for battery-powered devices.
Read More: Difference Between Hardware and Software
It is everywhere in modern electronics, helping them work efficiently and saving power. It's the technology behind your devices' processors, memory, and many other parts, making them faster and more energy-efficient. So, next time you use your gadgets, you'll know a bit more about the clever technology inside them!
What is BIOS?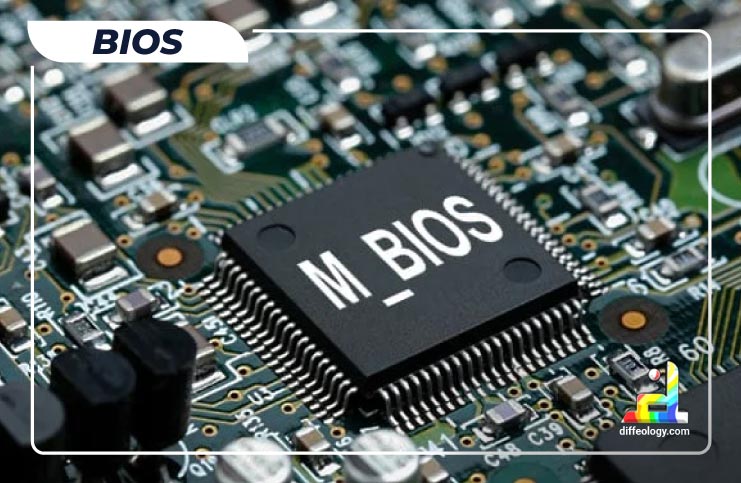 It stands for Basic Input/Output System, and it's a crucial part of your computer. It's like the computer's brain, a program that runs when you turn on your machine.
The main job of BIOS is to check if all the computer's hardware, like the processor, memory, and hard drive, are working correctly. It's like a quick health checkup for your computer. If something's not right, it lets you know with error messages.
Read More: Difference Between Notebook And Tablet
Once the health check is done, it hands over control to the operating system, like Windows or macOS. It's like the BIOS opening the door to your computer and letting the operating system take over. So, it is a vital link between your computer's hardware and the software you use every day.
Comparison Table "American Bulldogs Vs. Pitbulls"
| GROUNDS FOR COMPARING | American Bulldogs | Pitbulls |
| --- | --- | --- |
| Origins and History: | Bred for farm work and companionship. | Developed for bull-baiting and later fights. |
| Physical Appearance: | Larger, muscular, square head. | Compact, agile, rounded skull. |
| Temperament: | Loyal, protective, wary of strangers. | Friendly, loyal, depends on upbringing. |
| Energy Levels: | Moderate content with lounging. | Higher energy, need regular exercise. |
| Trainability: | Intelligent, stubborn streak. | Intelligent, responsive to positive training. |
| Sociability with Dogs: | Selective friendships, early socialization. | Varies, needs early socialization. |
| Grooming Needs: | Short coat, low-maintenance. | Short coat, simple grooming. |
| Health Considerations: | Hip dysplasia, skin issues. | Hip dysplasia, allergies, cardiac problems. |
| Protective Instincts: | Natural guard dogs. | Protective behavior varies with individual. |
| Legal Restrictions: | There are few restrictions, but they can be impacted. | Often face breed-specific legislation. |
| Popularity: | Versatile working dogs, rising fame. | Popular pets, controversy due to history. |
| Exercise Requirements: | Regular exercise, not high-energy. | Higher exercise needs, physical and mental. |
| Lifespan: | 10-16 years, depending on care. | 12-16 years, responsible care is important. |
| Adaptability: | Adaptable to different environments. | Adaptable, best with responsible owners. |
| Ownership Requirements: | Commitment to training, exercise. | Responsible handling, socialization, care. |
Difference Between CMOS and BIOS in Detail
Function and Purpose:

CMOS, which stands for Complementary Metal-Oxide-Semiconductor, is the tech stuff in your computer that deals with important settings. It's got a little chip with a tiny battery on the computer's main board, and this chip holds onto settings like the date, time, how the computer starts up, and how it saves power. Even when you turn off your computer, that CMOS battery keeps these settings safe.

Now, BIOS, or Basic Input/Output System, is like the computer's secret sauce. It's a kind of software that lives on a chip on the motherboard. What it does is kickstart and control all the computer parts when you turn it on. Before your computer loads the fancy stuff like the operating system, BIOS does some checks and setup to make sure everything's working just right with your hardware. It's like the referee making sure the game can begin!

Volatility:

So, CMOS settings are like the tough cookies that never give up, even when your computer's snoozing. That CMOS battery is like a little helper, keeping the CMOS chip juiced up so it remembers all the important stuff, like your settings, even when the power's off.

Now, BIOS is kind of a memory foam pillow. It's soft and comfy when you use it, but it's not great at remembering things. See, when you turn on your computer, BIOS loads up into the computer's memory (RAM), but it doesn't stick around permanently. If you change any BIOS settings, you have to make sure to save them to that CMOS chip if you want them to last.

Accessibility and User Interface:

To tinker with CMOS settings, you usually have to hit a certain key (like Del, F2, or Esc) when the computer's just waking up. The CMOS setup screen is pretty plain and might not be super easy to understand 'cause it's all in tech talk.

Now, with BIOS settings, you can get to them by pressing a special key during boot-up. The BIOS menu is still just words on the screen, but it's a tad friendlier and more organized than the CMOS stuff.

Configuration Options:

CMOS settings handle hardware stuff like the date, boot order, CPU, and power options. They also keep the BIOS access password.

BIOS settings, on the other hand, cover a lot more ground. You can tweak hardware, security stuff like passwords, and advanced system stuff like CPUs, RAM, and peripherals.

Updating and Modification:

You don't mess with CMOS settings much since they're all about the basic hardware stuff. You only go there when you have to, like changing the boot order or clearing BIOS passwords. Sometimes, you have to swap out the CMOS battery when it dies.

Now, BIOS settings are more flexible. You can tinker with them more often, especially when you're upgrading hardware or fixing problems. Manufacturers might drop BIOS updates to add cool new stuff, make things work better, or squash bugs. It's like the action-packed part of your computer!

Interaction with the Operating System:

CMOS settings don't care about the operating system. They're all about getting the computer up and running by setting up the hardware.

Now, BIOS is mostly about hardware, but sometimes it's got extras like ACPI to help the operating system handle power stuff.

Boot Process Control:

CMOS settings call the shots on what the computer tries to boot from first, like hard drives or USB drives. It's key for fixing problems and installing operating systems.

BIOS runs the whole show when you turn on the computer, from getting the hardware ready to kickstarting the operating system. It's the one that fires up the bootloader, which gets the OS going.

Security Features:

CMOS may include basic security features such as password protection for accessing CMOS settings. It's primarily focused on preventing unauthorized changes to hardware settings.

BIOS offers more extensive security features, including the ability to set passwords for accessing the computer, enabling or disabling hardware-level security features like TPM (Trusted Platform Module), and configuring boot password protection.

User-Generated Settings:

You know, when it comes to CMOS settings, regular folks like you and me often tweak them to suit our hardware needs. We might mess with things like changing the system clock or picking which device our computer should boot from first.

Now, when we're talking about BIOS settings, those are the secret sauce that the tech-savvy folks or the computer whiz kids like to mess with. They're the ones who dive into these settings to do some cool stuff like overclocking or fine-tuning the hardware to squeeze out maximum performance.

Role in Troubleshooting:

You know, those CMOS settings? They can be a real lifesaver when you're dealing with problems, especially when your computer won't boot up. If you've got things set up wrong, like having the computer try to boot from the wrong place, it's like a roadblock that stops the whole show.

Now, let's talk BIOS. That's like the superhero of troubleshooting when it comes to hardware glitches and startup hiccups. When something's not right with your hardware, the BIOS can throw up these error codes or messages that are like clues to help figure out what's gone wrong. It's like your computer's way of saying, "Hey, something's not quite right here!"

Evolution and Modern Alternatives:

CMOS tech has been holding steady without many big changes lately. But there's some exciting stuff happening in the CMOS battery world that could make things last longer and be friendlier to the environment.

Do you know that old BIOS thing? Well, it's been phased out by newer, cooler firmware interfaces like UEFI (pronounced "you-ee-fee"). UEFI brings some fancy upgrades to the table, like advanced features, better security, and a slick graphical interface. It's like the modern replacement for the old BIOS.

But wait, there's more! UEFI also plays nice with bigger storage drives and makes your computer boot up faster and smoother. So, it's not just a new kid on the block; it's here to boost your whole computer experience.
Key Points Showing the Difference Between CMOS and BIOS
---
So, you've got CMOS (Complementary Metal-Oxide-Semiconductor) technology. It's all about making cool, low-power stuff for electronic gizmos, even that little CMOS battery that keeps your computer's clock ticking and stores BIOS secrets.
BIOS (Basic Input/Output System), on the other hand, is like the boss software living on your computer's motherboard. It's the one that wakes up all the hardware when your computer starts and helps it talk to the operating system.
CMOS settings hang out in a tiny memory chip and are powered by that trusty CMOS battery. They're all about basic hardware stuff, like what time it is and how the hardware should behave.
BIOS settings and firmware are chilling in flash memory on the motherboard. They're more into advanced settings, like telling your computer which order to boot up in and messing with CPU settings.
The CMOS data is like the guy who never forgets stuff; it sticks around even when your computer's snoozing, thanks to that CMOS battery. But BIOS firmware is like a tattoo on the motherboard; it's there for life unless you decide to change or update it.
So, CMOS settings are all about keeping time and hardware happy, while BIOS settings are the big shots in charge of getting your computer up and running and managing its hardware.
FAQs
Conclusion
CMOS and BIOS are like the dynamic duo in your computer, teaming up to keep things running smoothly. CMOS is like the guardian of important settings, like the date, time, and power-saving tricks, all thanks to a little battery that never quits. Now, BIOS is the manager in charge of starting things up, making sure all the hardware is ready to roll before it hands the reins to the operating system.
CMOS settings are mainly about hardware stuff and aren't something you mess with every day. But BIOS settings? Well, they're the cool, versatile ones that tech-savvy folks love to tinker with. You can use them for all sorts of things, like supercharging your computer's performance. Plus, both CMOS and BIOS lend a hand when you're trying to fix hardware problems.
Now, here's the scoop on the latest tech scene: The classic BIOS is getting a makeover with the modern UEFI firmware. It's like a high-tech upgrade, offering fancy features, better security, and a slick, easy-to-navigate screen. So, next time you fire up your computer, just remember that now you know the Difference Between CMOS and BIOS.
References and External Links